Data Management
The AHIA is focused on enhancing the value of private health insurance through safety and quality mechanisms and the CPRU aims to support decision making through:
Analysing variations in clinical practice outcomes
Monitoring Safety and quality of clinical services
Identifying unwanted variations by measuring under-use, overuse or misuse of provider treatments
Benchmarking
Monitoring affordability
Measuring capacity
Enhancing completeness and integrity of data
The AHIA produces reports for member funds which focus on the private health membership, coverage, benefits and utilisation as well as on clinical outcomes and performance of the private sector as part of the Industry's commitment to better health, better care and better outcomes.
The AHIA's  Clinical Performance Research Unit (CPRU) has developed a framework for analysis of Hospital casemix Protocol (HCP) episode level data to focus on:
Variations in clincial practice
Variatiosn in Clinical outcome
Cost effectiveness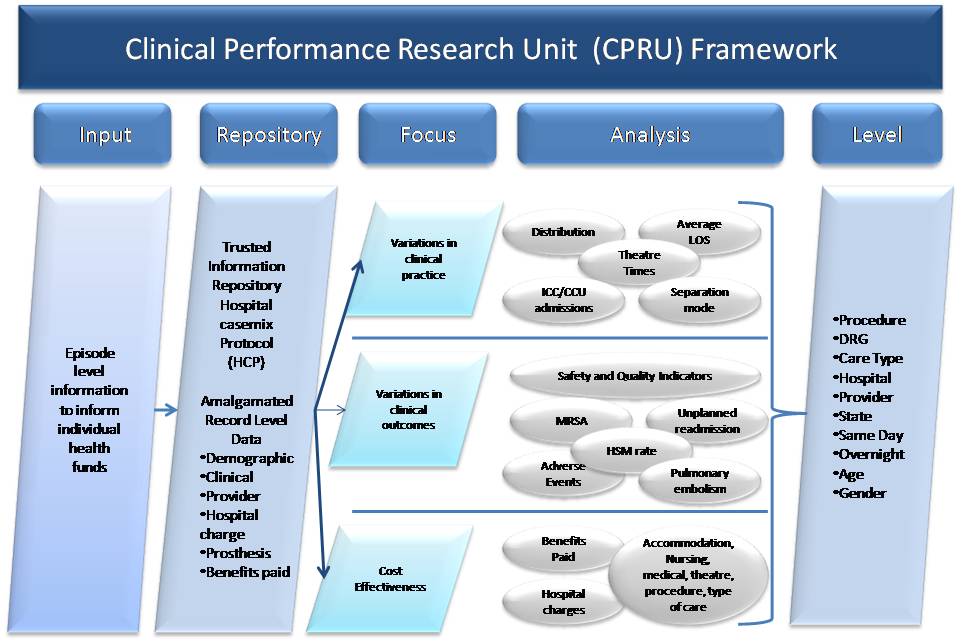 HCP data allows for detailed analysis of safety and quality indicators such as unplanned re-admissions to hospital, hospital acquired infections and hospital standardised  mortality rates. The AHIA developed  a Safety and Quality Framework to assist the Private health Insurance industry with their contract negotiations with private hospitals and day procedure centres. It aimed to establish a systematic approach to monitoring and measuring outcomes associated with the safe delivery of healthcare services provided within the private sector and ensure the private hospitals were engaged in quality improvement programs throughout the patients continum of care.
Ultimately the strategic intent of the framework is to maintain confidence of the consumers that the delivery of healthcare services is continually assess and monitored.
---