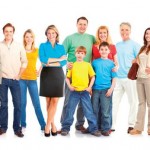 Australia's Health Funds are providing healthcare protection to over 13 million consumers.
Have you got Private Healthcare?
Come and join your fellow Australians who have wisely chosen better quality healthcare both for themselves and their families.
These families are making sure that they receive better quality healthcare – better cover – better access – better care – by being privately insured.
Over 13 million Australians can't be wrong
Our Private Healthcare Funds now cover millions of Australian consumers who know that ill-health can strike at any time.
They all know that it is better to be covered; that it is always better to be safe than sorry.
That's why millions of Australians rely on Private Healthcare.
In fact, over 55% of Australians now rely on Private Healthcare to protect themselves and their families.
About Private Health
Private health insurance is available for all Australians who wish to cover the costs of becoming a private patient. Being a private patient means you have more control in choosing your treating doctor in hospital and in some instances can reduce your waiting time for elective surgery by having treatment in a private hospital.
Private health insurance also offers cover for some or all of the costs of other services not covered by Medicare, such as ambulance services, dental, optical items, physiotherapy and a wide range of other services.
Here at Private Healthcare Australia, it isn't just about statistics and facts – it allows you to share your views and experiences and gives you all the information you need to make the right health insurance decisions.
We help explain all you need to know to make the most of Australia's great healthcare system.
How Health Funds Work
Private health insurance is provided through organisations registered under the Private Health Insurance Act 2007. The financial performance of registered health funds is monitored by the Private Health Insurance Administration Council (PHIAC), an independent Australian Government body, to ensure solvency and capital adequacy requirements are met.
Some health funds are listed as 'not-for-profit', this means it is a mutual organisation, with the premiums paid into the fund used to operate the business and cover benefits for members. 'For-profit' funds aim to return a profit to their owners (which may be another health fund or corporation) or shareholders. They are still required to maintain sufficient funds to operate the company and pay benefits to their members.
Health fund are registered as either an 'Open' or a 'Restricted' membership organisation:
Open membership organisations provide policies to the general public.
A restricted membership organisation provides policies only through specific employment groups, professional associations or unions.
Health Funds  may operate in a particular state or some/all states and territories. Many funds operate mainly in a particular state or regional market. This means they may have a wider network of Agreement hospitals and health providers within that state or region. This is very important, because you are more likely to be covered for hospital fees if your hospital has an agreement with your fund.
Most larger funds will offer different policies for different states, or the same policies at different premiums. Differences in price are based on the variations in cost and benefit between states, and in some cases state government health arrangements.
Unlike other insurances, your premium is not affected by your age, health status or other risk factors. This is called community rating and it protects from having to pay higher premiums if you make a claim, or as you get older, or if you get sick.